The Provenance Ag Merino Shirt
Fully-traceable from sheep to shirt
Our dream at McNair was always to have full traceability of our wool for a myriad of reasons. We had even harboured dreams of our own flock of merino sheep.
It was good fortune that brought us in touch with sheep farmer, Paul Simons. The team at the Glencoe farm in NSW is committed to their flock, animal welfare, the environment and sustainability. As a result their wool of course is second to none. In December 2019, we started our collaboration. We anticipated that we would launch in summer 2020 in time for the Australian winter.  Of course we hadn't predicted how this year was going to turn out.  It will have taken nearly a year but we are now ready to launch our first ever fully traceable shirt. 
The wool's journey from the lovely sheep on the Glencoe farm, local scouring and the slow boat.
Honoured to work with local companies such as
Z Hinchliffe est.1766 to create our new beautiful and incredibly soft fabric.
Working with the finest wool finishers in the world and launching our new McNair Ag anti-viral to help keep the shirt clean.
Tom and his trusty kelpie helpers live on the Glencoe farm and together they look after the other residents – the stunning merino flock. The farm is made up of fertile  valleys and granite slopes leading up to undulating native grassland flats. Over 10% of the land has been set aside for conservation. So Australia's unique animals are provided with areas in which they can live and breed without human disturbance. There's been large scale tree planting and the installation of solar energy to power the entire farm.  This is a proper green operation.
Find out more about Glencoe here.
The scoured or cleaned wool is prepared for dyeing, blending and spinning.  The carded wool is transformed into spun yarn ready for weaving. Twist is added. It's then off to the weavers. Here the yarn goes into warp and then into loom.
Our choice of colour palette was very considered – it's the subject of our competition so more will be revealed in December once the winner has been selected.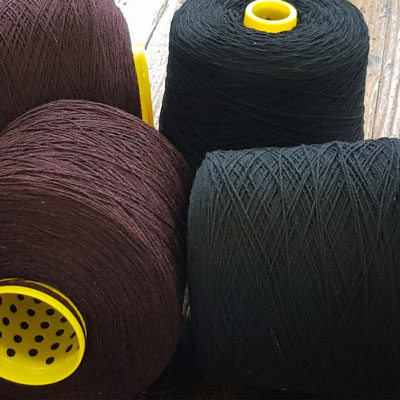 There's a special silver magic machine in Huddersfield and this is where our McNair Provenance merino receives its new Ag finish. Silver has been traditionally used to make materials anti-microbial.  Our merino wool is by nature anti-microbial that's why it doesn't smell.  Silver also has anti-viral properties. So we thought why not give our merino an extra boost. It's a bit like your shirt getting an invisible shield against bacteria and viruses so it stays clean. So if you felt for whatever reason, you might need to clean your shirt, you might decide not to now.
The silver micro particles embedded into the cloth coat each fibre, ensuring protection throughout the life of the garment.  The elemental properties of silver mean that the bacteria and viruses cannot adapt and become resistant. The silver finish is not harmful to the environment and is not toxic to the wearer. So you can be confident that your shirt will be fresh, odour free and clean for longer.
Finishing is the fascinating process of turning what looks like a dishcloth of material into a luxurious soft and weather resistant material. Our friends at WT Johnson, reputedly the world's finest wool finisher "mill" the material using the finest Yorkshire water. This creates the felt like finish. The mid-weight material is now ready for cutting and sewing. The heavyweight merino still has a few more steps before it's ready.  It still needs to be raised, steamed and brushed.  This gives the fabric its unique pile and insulation, creating its fantastic warmth to weight ratio.
Once the material arrives at our atelier in Slawit, we get cutting and sewing.  The first shirts to be launched in the new materials are our off-the-peg Men's Mountain Shirt and Women's Fell Shirt. Over the next 2 weeks will also be launching our made to measure service and other styles. We have just started making the new Charcoal Melange and the Black Narcissus.  The consensus is that these are the best shirts we have ever made. Numbers are limited particularly on the Black Narcissus heavyweight.