As some of you may be aware, we decided to pretty much close our shirt production in March and shift production to personal protective equipment as there appeared to be an impending shortage. Like many other companies we tried to contact the Covid-19 response team to be of assistance but unsurprisingly in hindsight they were obviously inundated with offers of support.
After several weeks we were still struggling to make any headway and were unable to obtain a full specification, so we set about prototyping. With no idea of how or if we could make it work, we purchased blindly a whole bunch of raw materials including 13,500 m2 of a specialist non-woven. Some of the materials turned out to be the right ones, others did not… (If we start some crazy McNair product diversifications in the coming months, you'll know why).
As soon as we were happy with our first sample we approached our local Huddersfield & Calderdale NHS Trust directly, and after a few iterations our protective gown was approved. We put out a call for volunteers and over Easter our shirt sewing line and showroom were dismantled so we could create space and distance between all the machines.
In mid-April the materials arrived, and so did all the amazing volunteers. It was truly overwhelming. Our first gowns were soon on the way to Huddersfield & Calderdale Trust. To add a bit of McNair style, we even managed to incorporate our signature Slawit Blue into the gown to help colour code size.
It has been a rollercoaster, but one thing we haven't struggled with is getting volunteers. They keep coming forward, and the team keeps growing. Our whole community from all over Huddersfield, Halifax, Hebden Bridge, Brighouse and beyond have worked together. So many small businesses, that usually turn their hands to something else, have all been collaborating with one aim – to try and keep our frontline workers safe in the current absence of PPE. Together we made over 3000 gowns in just over 2 weeks.  We exhausted our first material supply before the next 24000 metres arrived this week. We are all set to make thousands more gowns over the coming weeks and are extending our supply to care homes and children's hospices.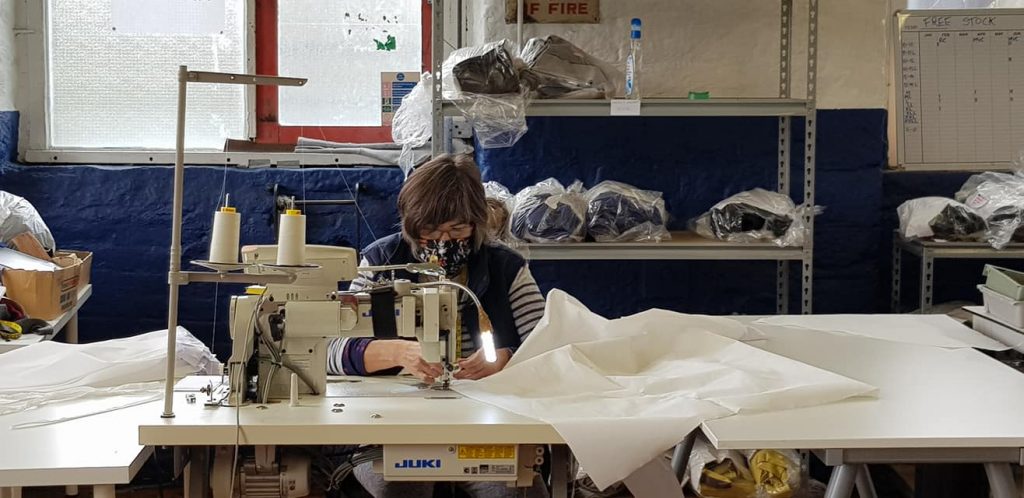 Whilst our offer of help has been declined by the government we will keep going until we have no more material left as it's now all been purchased by the UK Government. After then who knows.
It goes without saying that we would like to thank all of the volunteers for their extraordinary help and commitment. We have been working every day including today VE day. In order to avoid volunteer fatigue we have developed a rota and shift system and will be calling upon our next set of volunteers next week. We have over 50 volunteers helping, from drivers, to quality assurance, sewing, cutting, packing and cleaning fairies.
We would also like to thank some exceptional local businesses including Polymaster for their forklift and brute strength in helping shift literally tonnes of materials up the mill tower. Other local businesses we would like to say thanks to include Crossgroves for providing packaging, Michael George Manufacturing and The Last Factory from Hebden Bridge for massive help in sewing, Samuel Tweed for quality checking and so many more.
Please do keep volunteering, as there are still many gowns to make in the coming weeks. If you can use an industrial sewing machine and are local to Huddersfield, we'd love to hear from you. If volunteering is not financially viable for you please still get in touch at [email protected]. Whilst we are working not for profit, we have constructed dual pricing with both a volunteer price and a price where labour is included.
Finally we are still accepting shirt orders and can sell from stock almost immediately. If we don't have your size, colour, style on stock or you would like a made to measure shirt, the lead-time will be around 4-6 weeks.
A very big clap to everyone, and thank you.